Lupita Nyong'o has made her name in the film industry having won an Oscar Award as a supporting actress in Hollywood. However, little is said of her siblings, who despite maintaining a low-key public profile, have excelled in their fields.
Lupita's younger sister, Zawadi Nyong'o, is an alumni of both St. Mary's School Nairobi and Hampshire College where she studied International Human Rights and Development Studies.
Zawadi, in her own words, has described the journey to entrepreneurial success as one that is full of twists and turns but ultimately bears fruits in the end. 
A file image of Zawadi Nyong'o.
Instagram
Zawadi Nyong'o
According to her profile, Zawadi notes that before launching her start-up, she spent almost four years seeking therapy sessions after suffering mental health-related complications.
"After almost four years of several major breakdowns in my life, I travelled to India where I spent a month doing Ayurveda therapies," she stated. 
"By the time I was done, I knew my life had hit a major turning point. It was time to totally reinvent myself. I needed to discover my life purpose and find ways to live in alignment with my soul's destiny."
The idea to venture into social entrepreneurship came about during a low period in her life which she described as 'zero'. It was during her healing journey that the concept, Zero by Zawadi, was born. 
She did not know how to kick off things at first but her love for Africa, commitment to social justice, and desire and mission to create spaces, conversations, products, and tools that help elevate consciousness and heal humanity was a vital starting point coupled with her vast entrepreneurial drive.
The social enterprise, which is a wellness centre, carries out philanthropic projects within and outside the country.
"As a social enterprise, we also support the work of Mother Health International, a maternal health organisation that is improving and saving the lives of mothers and babies one gentle birth at a time at their beautiful birth centre in Attiak village, in Northern Uganda," reads part of the profile on her organisation's website.
The yoga-based cum fashion collective makes its fashionable pieces from East African Kanga which is a Kenyan made African print.
"We make them using pure cotton East African "kanga" which is the most unique textile in the world. Did you know kangas have been used as tools for communication since the 19th Century?"
Zawadi's charity work includes a brief stint at the African Cancer Foundation, which was founded by her father Prof Anyang' Nyong'o. 
She joins the list of other successful members of the extended Nyong'o family such as Isis Nyong'o who was named among Africa's most powerful women by Forbes magazine.
Her father, the Kisumu Governor, is seeking re-election in the August polls.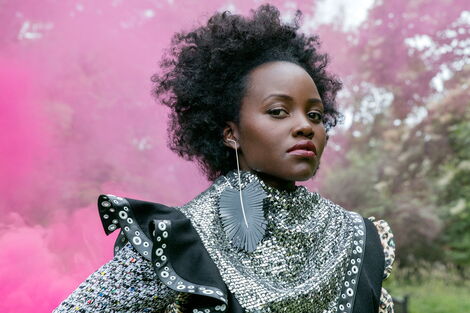 Lupita appears on the cover of Vanity Fair Magazine, September 2019 issue.
Vanity Fair
We want to thank the author of this short article for this amazing content

Inside the Successful Life of Lupita Nyong'o's Sister